Curate a beautiful home using pre-loved pieces, and you'll save more than dollars. I firmly believe you'll also get a better result: for the environment and for the spaces you curate.
Australia's obsession with interiors comes at a cost. A recent furniture rubbish survey found the Greater Sydney region can generate as much as 48,000 tonnes of furniture waste yearly – covering both soft furnishings and hard furniture.
Team that up with waste from packaging, carbon from freight, rising inflation and supply chain delays, and we've got an expensive, wasteful habit that requires a lot of patience before that fancy new sofa arrives.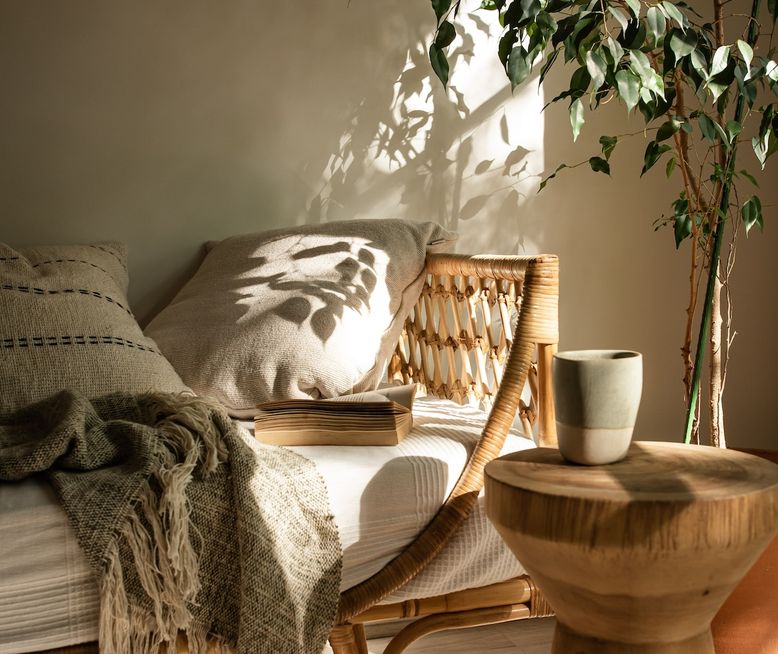 Second-hand is sexy, for so many reasons:
It's sustainable: no packaging. No freight. No waste. No landfill.
It's affordable: as a rule of thumb, for quality pieces, pay at most half the cost of the same item new in-store.
It's convenient. Don't wait three months for a new chair and then decide it's not right for the space. With online marketplaces, it's never been easier to find just the thing you need – and so often, it's just around the corner, and you can pop over and pick it up tonight.
If you stuff up and buy the wrong thing, you can just put it on the market again, straight away. Take a good picture, and sell it at a profit 😉
It's timeless. Think about it: if you waltz into the shops and kit your home out with all the latest and greatest from 2023, your home will always look like it came from 2023. BUT if you curate it using a mix of vintage and modern finds you'll have a storied home, full of character that lasts the test of time.
For our hosted home, called The Kindred, Canberra, we wanted to prove what's possible when you buy nothing new. Everything there, except the bedding and towels, is either preloved or hand made. Every spoon, chair, shelf, tap, hook, rug and coat hanger. It's the third home we've furnished this way, and here's what we've learned:
Decide on a style and colour palette that's inspired by your home and its surroundings. You will be tempted by bargains that don't match your style. Let them go: a cohesive look will elevate your space.
Great preloved markets include facebook marketplace, gumtree, online vintage sellers, local buy/sell/swap groups, council clean-ups, tip shops and second hand shops.
Make sure you ask for measurements if they're not on the listing, and check carefully for any evidence or mention of damage. Don't discount it if something's beautiful but broken. Youtube is great for fix-it tutorials, and if you're still not sure, take it to your local men's shed and they'll fix it for a song.
The second hand market is generally very quick, so it helps to be on the ball. Create alerts for things you need and be specific: for example, "outdoor timber daybed" within a certain radius. You'll be the first to know when the right thing pops up.
If you find a vendor selling things you love, check what else they have listed. You can also follow vendors on facebook marketplace to be alerted of new listings. I follow some stylists in Sydney who sell homewares they use in shoots. I also found and follow some people who work in the warehouse of designer furniture stores, and list their floor stock or samples. They often won't divulge the brand to keep people buying full-price from the store. In this case it helps to know what you're looking at to recognise the brand and understand the value, but if you don't, you can try a reverse google image search.
On haggling: go for it, but know that you risk losing it to someone else. Check how many folks have saved the item first. Generally, items like bed frames and sofas are great for a bargain as people need to clear them out before they receive a new one. Quality armchairs, outdoor teak furniture and classic dining chairs are rarer. Pounce on these, and don't bother haggling.
If something is very popular, or even if someone else has just said they want to buy it, don't be afraid to offer a bit more than the asking price. Until the item's been picked up, you're still in with a chance as buyers can be no-shows. Also offer to pay a deposit and to pick things up quickly.
For hard-to-find items, enlist the help of family and friends in different cities to broaden your search.
Online auction houses like Lawsons or Davidson Auctions are brilliant for preloved original art and quality kitchenware. They often represent folks offloading an entire household worth of goods from wealthy collectors. You can kit out an entire kitchen, and can find some incredible artworks for a song – it beats buying mass-produced prints that you'll see popping up everywhere, and helps create a high-end look.
If you can, concentrate your searches on higher density, affluent suburbs: this goes for both online marketplaces and council clean-ups. If you're far away from a big city, a buying trip can be a good investment. Hire a trailer, line up purchases to pick up in a single day (pay a deposit to the vendor so they're happy to hold it), and make a day of it.
Good luck hunting. To find out more about The Kindred, follow us on Instagram at @thekindred_canberra, or visit our Hosting with Heart listing.